Detect A2P voice flash calls and provide actions to monitor and control Voice A2P
Flash call monetization is one of the most important arenas of the struggle for A2P revenue streams.
From online payments to logging in to popular online services, one-time passwords (OTPs) have become an integral part of our digital experience. Offering an additional level of security for the users, the telecom business also benefited from the rise of A2P SMS volumes.
But nowadays the classic A2P SMS is forced to give way to new user authentication methods as enterprises turn to cost-effective alternatives such as flash calls. While flash calls pose a significant threat to the established A2P SMS revenue, network operators are able to protect these revenues with flash call monetization service offered by Mobik's hybrid monetization solution for voice A2P.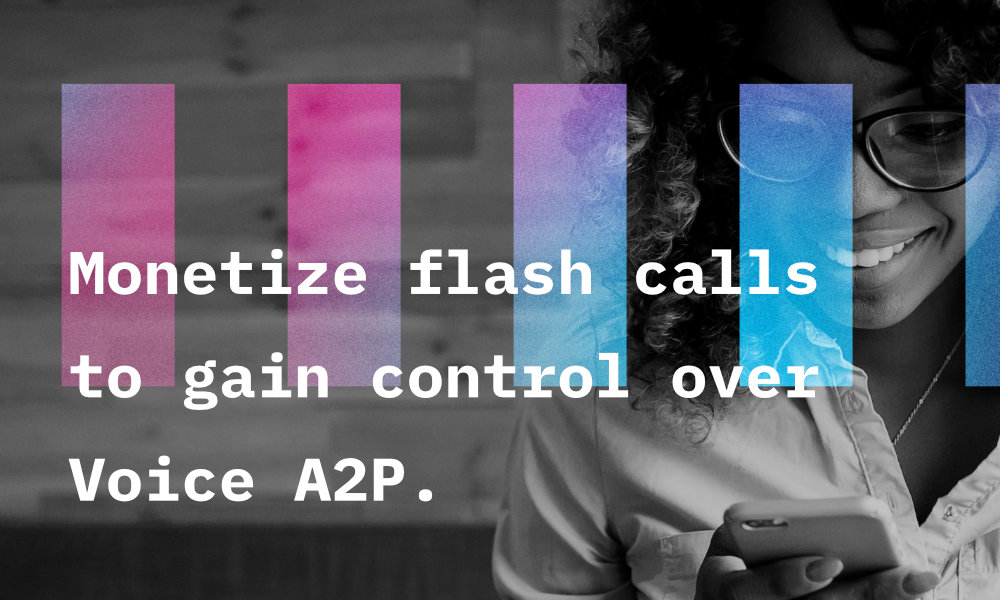 One-Time Password Generation Erodes A2P Revenues
Aggregators and multimedia companies offer substitutes to SMS for one-time-password (OTP) delivery to end subscribers. These techniques come at a lower cost than SMS, improve customer experience and security. Among the most widely used on the market are flash calls and text to speech models which are already causing a decrease in A2P messaging volume for operators.
Many OTT players have already integrated flash call authentication in their apps, while leading aggregators offer these modes of authentication as a part of their service. In this process the operators come out short:
Missed call termination costs for aggregators are zero.
While the operator cannot bill for calls that were missed, it has the added disadvantage of poor network visibility and cannot detect this type of traffic.
In order for the operators to have a leverage in this traffic, both A2P SMS and A2P Voice need to be monitored and protected.
Operators Need to Demand Protection That Offers Complete Control over A2P Traffic Types
To monetize flash calling and other new forms of user authentication, operators must increase their technological capabilities and know-how to protect A2P revenue streams. The technical capabilities of aggregators and fraudsters are high, and a hybrid approach is required to protect voice and SMS channels.
Traditional A2P SMS monetization and/or A2P SMS fraud prevention and detection systems are not able to detect and block A2P voice traffic.
In order to successfully monetize Voice-OTP it is essential that protection and monetization for flash calls is done with systems supporting SIP/CAMEL/Diameter interaction with core network.
Revenue assurance solutions that offer full-service managed modules aiming to detect and block alternative user authentication technologies are the best way to regain the power over A2P revenue streams.
Mobik's Full-Service A2P Monetization Solution
Mobik developed an advanced hybrid solution that enables operators to monetize Voice A2P (Flash Calls & text-to-speech). Our SMS revenue assurance solutions are supplemented by the implementation of a Voice Firewall where voice A2P/OTP verification traffic is monitored and controlled to prevent erosion of A2P revenues.
We combined the best engineering from our SMS and Voice revenue assurance solutions into a hybrid capable of addressing most pressing drawbacks of A2P monetization efforts.
Only those that will succeed in taking command of the A2P voice traffic will secure their A2P revenues and stabilize their monetization streams. With Mobik you can do so immediately.
01.
Monitor and Control Voice A2P
A full-service A2P monetization solution that successfully combats unwanted practices in the A2P traffic arena.
The fastest and most scalable Voice FW platform available on the market.
Configurable in Passive (detection) or Active (blocking) mode.
Goes far beyond legacy CDR detection by offering new integration capabilities.
Enables operators to regain control over their A2P revenue streams and increase A2P revenue.
02.
The Best from SMS and Voice Revenue Assurance
Improves network visibility by successfully detecting A2P voice traffic with our Voice Firewall Gateway (VFG).
Dedicated 24/7 support from Mobik engineers.
Consulting on how to maximize revenue and develop new profitable products.
Fully-managed service.
Our experience in the telecommunications industry provides a deep understanding of the challenges faced in the A2P arena.
Don't let A2P channels drain your revenue.